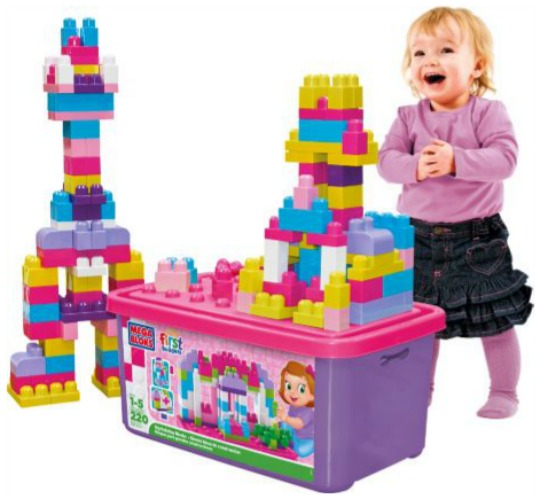 I have noticed that more and more of the construction toy manufacturers are releasing "girly" coloured sets to encourage the little females to play. This Mega Bloks First Builders pink 220pc big building tub is only £22.94. I have NEVER ever seen this for as cheap. As you can see from the picture, it's big. It's been reduced from £59.99 to £29.99 and is now only £22.94!
Stock availability is super on this Mega Bloks First Builders 220pc big building tub, and was in stock at 100% of the stores that I checked across the United Kingdom. I anticipate this to change though, because it really is a marvellous price for such a toy.
You get a mammoth 220 Mega Bloks in this girly set. Due to the size of each "blok" they are suitable for children as young as one. If they can fit one of them in their mouth to choke I would be very shocked. The pieces aren't all pink but there's a mixture of colours like yellow, blue and purple as well.
The set is compatible with other Mega Bloks First Builder kits, which means you can expand on your current collection. The lid of the big storage tub can be used as a base plate for your little one's constructions.  I just love toy sets that come with sturdy storage, any help to keep rooms clean is a bonus in my eyes.
Reserve and collect the Mega Bloks First Builder 220pc big building tub from your local Argos store, which is free, or opt for delivery at £3.95.