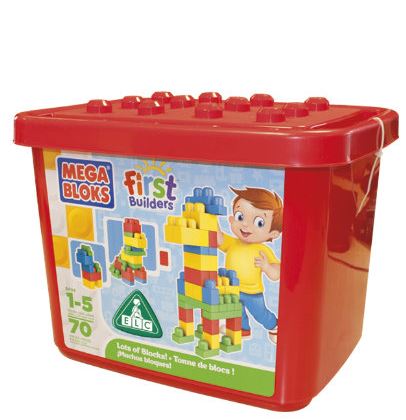 ELC have a 20% discount across all their toys this weekend, which includes their goodies in Mothercare, it seems. You just add toys to the basket and it automaticallys takes 20% off before you check out. If you choose these blocks that were £14.99 it'll take £3 off for you, but then postage adds £2.95 back on. You can either use that almost like a free postage offer, or have it delivered to a Mothercare store for pickup, and grab this tub of bricks for £11.99. 
I actually bought these Mega Bloks a few weeks ago at a nearly new sale for about half this price. I'm quite surprised to see how well they sell once you're done with them. We're having a Lego themed birthday party this weekend and I wanted something for the very little ones to play with. Not Lego, I know, but they won't know the difference at that age!
The First Builders set comes with 70 big Maxi Mega Bloks in a classic primary colour scheme, all in a sturdy and practical storage tub. 
This award winning toy is fun on it's own or to add to other Mega Bloks products.
I will add, also, that my oldest had little interest in the set she was given at her second birthday and we eventually got rid of them, but this new set, now at four, she loves and plays with as much as her younger sister does at 19 months. It depends totally on the child. If they're not interested in it yet, put it in the cupboard and try again in a few months!
Thanks to sazjo at HUKD