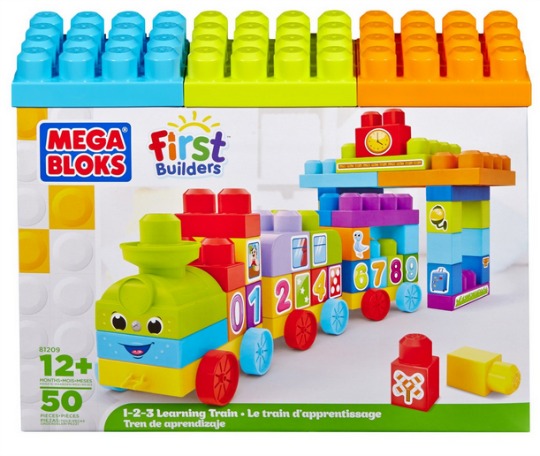 This Mega Bloks First Builders 123 Train sells for £14.99 at both Argos and Toys R Us. Amazon have undercut all other retailers, as far as I can see by selling it at only £9.99. We just love it when they do that. A saving of nearly a fiver is always a good thing. We know you guys just love Mega Bloks, so here you are.
Click here for the Mega Bloks First Builders 123 Train @ Amazon*
The Mega Bloks First Builders 123 Train contains approximately fifty pieces and due to their chunky nature, means that it's suitable for age twelve months and above. Although chances are your one year old won't construct a train, but that's why your there, to help. The lid on the box that they come in is three base plates that models can be constructed on.
There's stickers included to decorate blocks to make them more educational, with the use of numbers. Sets like this are always a fun way to acquire new skills, your child will learn numbers, shapes and how to build a train, and you will hopefully learn the art of patience as you wipe the drool off of the blocks for the seventh time in two minutes.
Add this Vodafone sim card*for 1p and get your Mega Bloks First Builders 123 Train  delivered for FREE. This will make your order £10 exactly making it eligible for Amazon's Super Saver delivery.