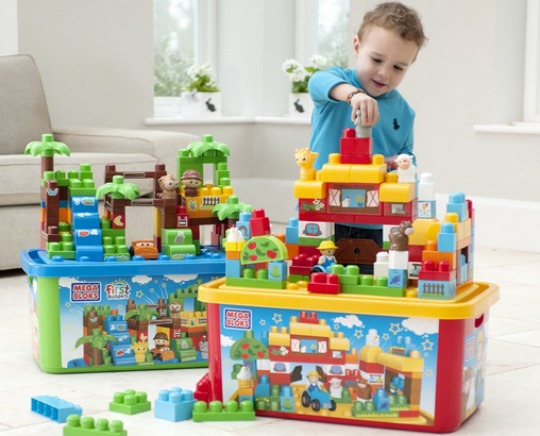 I will warn you now that this is such a good bargain that it'll sell out. This Mega Bloks Buildable Toy Chest Farm Tub is only £18 from Amazon. Plus you get FREE Super Saver delivery. This very same toy is £45, yes £45 from Debenhams, £29.99 at Asda and £28.99 at Argos. See, I told you it's a bargain and a half!
This fab Mega Bloks Buildable Toy Chest Farm Tub from Amazon contains 95 pieces altogether. The bloks are big enough not to pose a choking risk, so this set is absolutely fine for children aged one to five years old.
With a farm theme, this set contains farmyard figures like a sheep and a cow. There's a sheet of stickers to decorate the bloks with, plus a tractor to maintain the farm.
If you are after an introduction to construction toys item, then this would be ideal. It comes in a sturdy plastic box and the lid makes a great base plate to build on. Fire up that imagination with this Mega Bloks set.
This is the cheapest this set has been on Amazon, and it really is going to sell fast at this price. We can never judge how much stock Amazon has either, so please don't hang around to avoid disappointment.