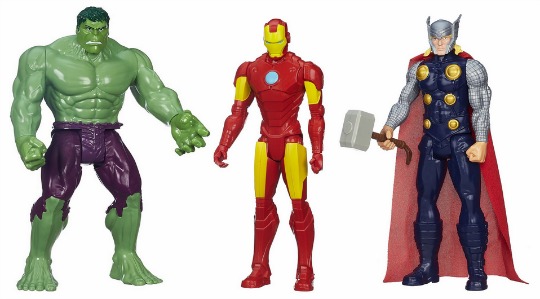 This is a brilliant price for action figures, and just the kind of thing that gets me all excited about a bargain find! Amazon have dropped the price of a selection of the Marvel Titan Series Action Figures by a big 38%, taking them down from £12.99 to £8 each!
These are big 12 inch high figures that come gift boxed, and they are really strong and sturdy. Right now you can get Hulk, Thor and Iron Man for £8 each, and if Captain America is on the Christmas list then he is a little more at £10.99.
I could tell you about just how much damage they can withstand by detailing all the adventures they have been through with my kids - my toddler in particular has put them to the test, and "Hulk Smash!" is a cry heard frequently in our house. There's no damage at all to any of them, though Captain America's shield is lost somewhere in the detritus of the boys' bedrooms.
(I'm doing my absolute best not to go off on a rant about why there is no Black Widow action figure to add to my son's Avengers collection, as I am sure it has been said many times before. It looks like Hasbro are not listening, and the only female character is ignored. #WhereIsBlackWidow )
Home delivery is free on orders over £20 and for Prime members, otherwise postage and packing charges will apply.