Martian Matter Alien Maker £4.99 @ The Entertainer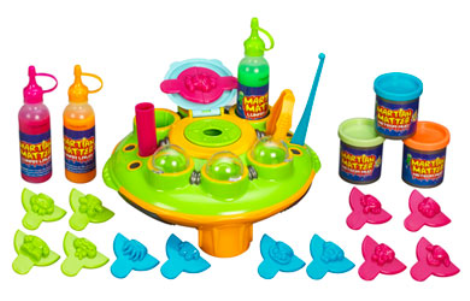 There are few things more exciting to kids than squishy, messy, gooey things that transform into weird and wonderful creatures. This rather delightful kit at The Entertainer has been marked down from £19.99 to only £4.99 and is quite perfect for the creatively messy child.
The alien spaceship container has all sorts of frabjous alien-making technologies. The Lunar Lava gel and Meteor Mud combine to create alien forms. You can then mix and match the 14 different moulds to make over 90 different kinds of alien.
These combinations can then be further squished and prodded using the provided tools to flatten them, dissect them (ew!) or give them extra details.
Kids will have hours of fun making different aliens in a variety of colours and shapes, and they can then take them on fun adventures using the provided spaceship and pods. Visit strange new worlds, abduct innocent humans, fly the aliens home! The only limits are a child's imagination.
This particular kit is for kids over the age of five and is a complete and utter bargain at the delightful price of £4.99. A brilliant Christmas pressie if I ever saw one!