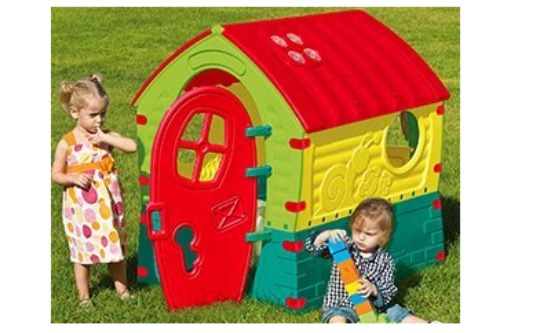 Is spring coming yet? Well it's March tomorrow so my calendar says it must be on it's way. Home Bargains have started selling all their garden toys and amongst them is this really cute Marian-Plast Liliput Dream House. The RRP is £89.99, it's selling elsewhere at £80, and Home Bargains are charging £39.99.
It may not be massive, but most garden playhouses aren't unless you want to spend a small fortune, and this looks plenty sturdy enough for little people to play in. It's made of brightly coloured plastic, the door and windows open, and it's easy to build and clean.
Oddly, although you can order this play house online it's not available for home delivery, but only for free store collection, so unless you have a store near you then you may have to re-think. You can get it delivered from Very or Woolworths, but it'll cost £80 plus P&P!
Although the houses are all the same style the colours of the panels may vary from the ones shown in the picture, but as this isn't exactly a realistic depiction of a regular house I don't suppose that will matter too much to the kids.