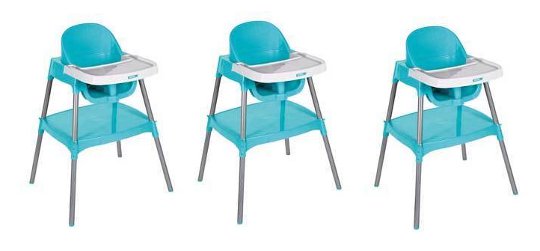 Argos Ebay have a Mamu 3-in-1 plastic highchair on offer for £19.99, plus £1.99 postage. The same thing is £34.99 at Amazon right now, so it's a nice saving.
I have looked around, but can't seem to find any images of this chair in the other two positions. All pictures online just have the straight highchair image, but I'm sure this description will help you figure it ou.
The lower half of the chair, the tray table, is actually a table that the chair rests on top of. The tray can be removed to sit the chair under the table. It has a simple unclick mechanism, but is very sturdy, apparently, when clicked in place.
The chair does have safety straps which are removable for easier cleaning, and no fabric means there's nowhere for food to get stuck.
One thing a reviewer mentioned is that this 'aquamarine' coloured chair is much greener than the blue image pictured and it suits a child up to 20kg.
Thanks to Chilisauce