Maisto Rock Crawler £34.98 @ Maplins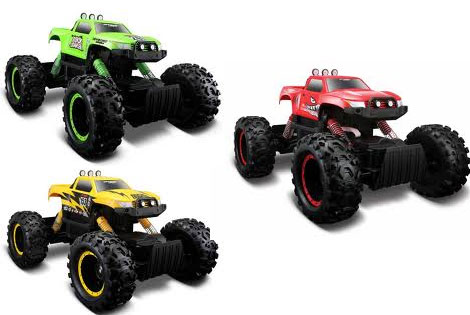 This Maisto Rock Crawler is tipped to be one of the big Christmas toys this year.
Actually, I wouldn't crawl over to Maplins for a Maisto Rock Crawler I'd get myself over there asap and grab one whilst their still in stock.
Now I must confess I'm not the biggest remote control car fan in the world - you're shocked, I know - but I have found some dudes who are and they've put together the most comprehensive review on the Maisto Rock Crawler that you could ever wish for.
The tell you all the things you need to know, all the things you WANT to know and a whole load of other stuff you didn't know about remote control cars in general!
They've even put together a 3 minute 40 second video review of the Maisto Rock Crawler in action, whilst they talk about digital proportional steering (I know what that is now - every day's a school day and all that), here's the link:
Maisto Rock Crawler video review and demo
The Maisto Rock Crawler will appeal to anyone with a bit of an off-roading streak in them and should retail for around the £40 mark - Maplins have dropped the price to £34.99 until Christmas Eve.
Delivery is £2.99 but if you enter SECRET3 into the voucher code box when you checkout, £3 will be whipped off the price and you'll get the Maisto Rock Crawler for £34.98 all in!
Thanks to howser over at HUKD