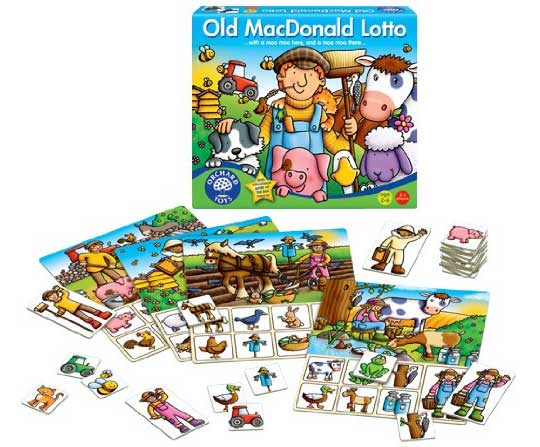 If you're looking for a cute little game to play with your littles ones, aged between two and six years old, then you should take a look at this Old MacDonald Lotto game - it's up for grabs at Amazon for £5.98, at the moment, instead of £9.50.
Old MacDonald Lotto features four farm boards, 24 farm cards and four farmer cards.  Each player chooses a farm board and all the farm cards are spread face down on the table.  The farmer cards are also placed face down on the table, in their own pile separate from the others.
Then you take it in turns to turn over one of the farm cards, so that everyone else can see what it is.  If  you have the same picture on your farm board, then you place that card on the matching square, whilst making the noise or the action of the item on your card - this is where the giggling is bound to start *OINK!*
However, if the card you turned over isn't on your board then you must put it back to its original place on the table, and play moves on the next player.
Once someone has collected all their farm cards, they've then got to find their farmer!  If they match the farmer on their board with a farmer from the farmer card pile, then they WIN! If not they try again on their next turn.
It sounds like lots of fun to me, and a little card game bargain.
Thanks to hsg at HUKD