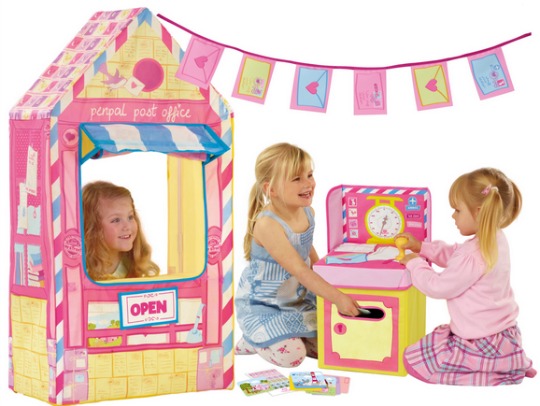 Toys like this Love My Street Penpal Post Office with Counter are always a safe bet for little ones. I'd say this one is probably aimed at girls with it's candy coloured theme. I can't get over what a great price this is, for what it is. This fantastic role play toy set is now just £9.99 plus £3.99 delivery charge. It has a suggested selling price of £34.99, and although I don't think it's worth that, it certainly looks like it would sell for around the £20 mark.
The Love My Street Penpal Post Office with Counter comes with the Post Office of course, the counter, bunting (because every post office has some, right?), a special post office stamp, a sheet containing thirty stamps, four envelopes and four postcards. That's a LOT for under £14 delivered.
This toy is self-assembly but I doubt it'll be too hard to put together. It looks to me like it's poles and fabric just like a wendyhouse. If it is, that's great as that means it'll be easy to put up and down.
When I was little I had my very own little Post Office and it was the BEST toy I ever had. I think this is an absolute bargain, and I would buy it had it not been so girly themed.
Thanks to stuartguest1 @ HUKD