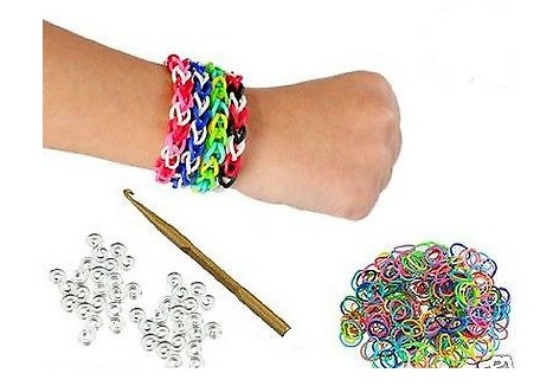 Quick! Stocking fillers, as cheap as you can get. Get over to Internet Gift Store where you will find Loom Bands Loom Bandz Bracelet sets at 49p. But one and you will receive a total of THREE packets. Meaning you get TWO packs for FREE! Unbelievably cheap!
Each Loom Bandz Bracelet Pack includes 300 loom bands, 10 S clips, and a tool. Let me spell this out to you, 900 loom bands, 30 S clips and 3 tools all for 49p DELIVERED.
Adults hate them, kids ping each other with them, the vacuum gets clogged with them, children whine for them but the bottom line is that kids are still crazy for them. At the end of the day, it keeps them quiet for a good wee while.
These would be ideal for kids party bags, stocking fillers or just to keep them occupied on car journeys. My boys love making different designs, like snakes, minions and such like.
The good thing about loom bands is that it seems to bring out the sharing side of children (apart from when they are pinging them at each other) they make them and gift them to one another.
Thanks to totoplus4 @ HUKD