Loom Bands, Where Will It All End?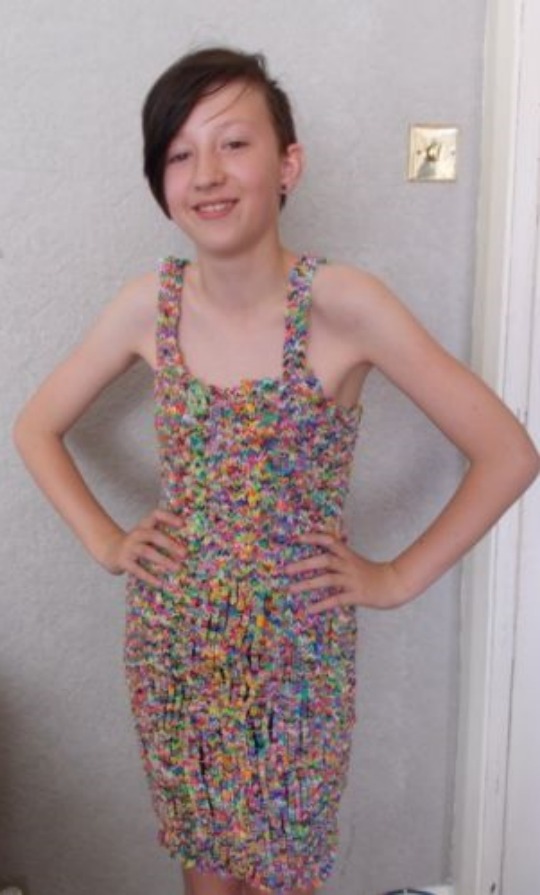 This time last year I hadn't heard of loom bands and now, well now, I can do fishtails, bracelets and have even tackled some of the projects we have here on the blog like the Loom Band Summer Projects with my 7 year old.
I'm a fan for a few reasons, firstly they're cheap and as a parent you'll know it's not often (ever?) kids are into something that is, plus it's creative and lets them use their imaginations.
So yeah I like them. The initial board and coloured bands in this house were soon replaced by neon, glow in the dark and even scented bands, as the creations became even more weird and wonderful (my daughter not me honest) and we're always on the lookout for new projects to tackle.
And then we stumbled on the Loom Band Dress. Yeah, you read it correctly, the loom band DRESS. Currently in news feeds and being tweeted across the nation, it's sitting at £153, 921 on eBay right now with 4 days left of bidding to go. Now suddenly my home made multi coloured bracket doesn't look quite as impressive as it did yesterday (Still have the marks on my fingers from making it too) NOTHING I show my daughter is ever going to compete now she's been exposed to this.
And to be quite honest making that kind of cash, I'm not going to discourage her,  now where did I put that board?!