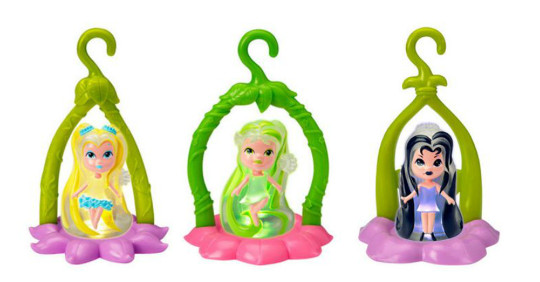 Tesco helps you fill up on stocking fillers early in the year, by the looks of it, with the Lite Sprites Astra magical doll reduced from a rather whopping £15 to a much more affordable £3.75. Click and collect is free, but even if you have to pay for delivery, it's £2.99 extra. 
The Lite Sprites magical dolls light up in 7 special colours to light up her beautiful forest pad, or your child's bedroom. Astra is a dreamer with long blond hair tied up in light blue headbands, and a yellow outfit with blue frills on the bottom. She comes from Lite-Topia, and likes to add a sparkle to the stars and a glow to the moon. The purple forest pad has a green handle with a hook that you can use to hang her up from a mobile or toy bar. Batteries included.
Meadow is a fun loving Lite Sprite with long green hair and a green outfit who comes from Lite-Topia. She loves the plants and flowers and is a bit of a prankster.
Bleak is a naughty little Sprite who was raised in the dark. She flies around Lite-topia stealing colours from the other Sprites. Thankfully you can use the Lite Sprites Wand to break her spell and free the colours she steals. Suitable for children aged 4 and up, Bleak comes in a forest pod and needs 3 x LR44 batteries, which are included.
Thanks to helpme2smile at HUKD