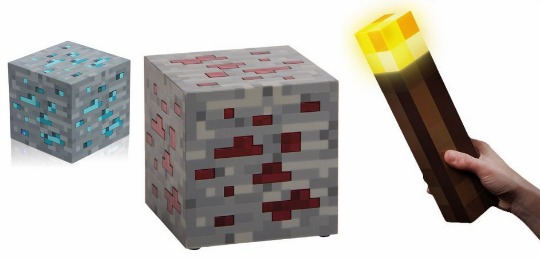 My eldest son can't seem to decide whether he is obsessed with Mario or Minecraft, so a lot of his Christmas will be a bit of both I think and I was really pleased to see that the Minecraft Light-Up accessories have dropped in price.
At Amazon you can get Light-Up Redstone Ore for £13.61 and the Light-Up Diamond Ore is a few pence less at £13.19. Also the much larger Light-Up Torch is now down to £10.80, and that looks so impressive that I think it's very good value for money.
If you are doing a Minecraft themed bedroom then there are loads of great accessories available, including duvet covers*, cushions*, posters*, wall stickers* and all sorts, but I quite like a few smaller things that reflect my son's many interests. I know it looks much neater to have one theme but there's so much that he likes! I think that Minecraft Torch may well be making an appearance under the Christmas tree this year though.