LEGO Ultimate Vehicle Building Set £24.99 @ Argos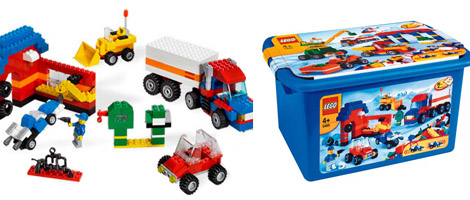 This is one of the Must Have toys this Christmas. Or so I've been told by quite a few little birdies this past week as I've fished for information. This Lego Ultimate Vehicle kit is packed with all sorts of fabulous goodies and is down to only £24.99 at Argos.
So, what do you get for your hearty £24.99 I hear you asking. Well, like most Lego kits there is a lot of stuff inside and the only limits are your imagination and (as in my case) living room floor space.
The Lego Vehicle Building Kit is usually on sale for around £29.99 so you're saving £5 and you get a huge assortment of bricks and ideas to create weird, whacky and (if you dare) functional vehicles. The kit also includes a pull-back motor so the cars you make will actually drive.
I remember owning a similar kit when I was a kid and boy were there fights over who got to play with the motor first. The set is idea for children over the age of four due to small parts, and you can buff it up with Lego City pieces for only £9.99.
Thanks to Broxy at HUKD!