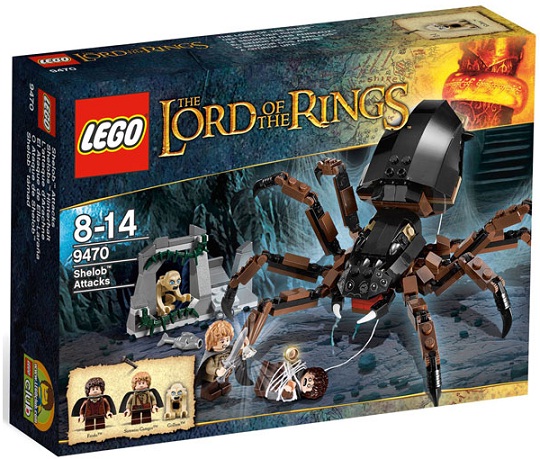 At last. The Lego sets that all the parents, er I mean children, have been waiting for. The construction toy giant has finally added to its collections with new Lego Lord of the Rings sets. These sets were made available this month, and there are seven additions ranging in price from £11.99 to £99.99.
I have a seven year old son who got his first big tub of Lego when he was two. He did have a couple of tubs of the junior stuff when he was a toddler, but he was never as interested in it as he was in the little bricks.
Our lounge looks, frankly, like a Lego monster came in and was violently ill. There are bits everywhere. My other half and I tend to always wear our shoes when indoors. I remember when my son was still a baby, my friend (whose offspring were much older) bought a coffee table, with an edge around it, specifically for her son's Lego creations. I thought she was mad at the time. NOW I get it! And am shopping around for a coffee table for our lounge.
The best thing for me about Lego is that I can get involved too, as can his Dad. Whether it is building up sets, or making our own creations. So being a fan of the Lord of the Rings books and movies, I was pretty excited to find out about the Lego versions.
We got the Shelob Attacks set to try. Read on to find out how we got on!
Lego Shelob Attacks
Help save Frodo! The Lego Shelob Attacks set (RRP £19.99) is based on the part of the story where Frodo, a hobbit, is under attack from the biggest spider you've ever scene. In the movies, I watch this bit with my eyes closed.
The nasty, sneaky, Gollum has led him through at tunnel to Mordor and tricked him into the ancient arachnid's lair. Frodo's courageous best friend, Samwise Gamgee, comes to the rescue with his Elven sword but Gollumn is hiding, waiting to catapult himself on to the two hobbits and finally reclaim the ring.
This is a rather exciting set. As well as Frodo and Sam figures, and the spider, you get a Gollum figure and set. The scenes in the books where Gollum munches down on raw fish were really disgusting, and I have to say I actually shuddered when I saw the little Lego fish!
As a parent, I thought that (for Lego) this was a particularly good value set. You get three of the main characters, and all the kids seem to be particularly attracted to Gollum (I don't know why). The Gollum set comes with a little catapult for him to pounce on the hobbits.
Frodo's head can be turned around, so he has his 'normal' face, and his 'paralyzed' face after Shelob stings him. There's the faithful Sam with the sword Sting, and also the ring itself (there are three, two spares - they are very tiny and we've already lost all three of them) and the vial given to them by the elves.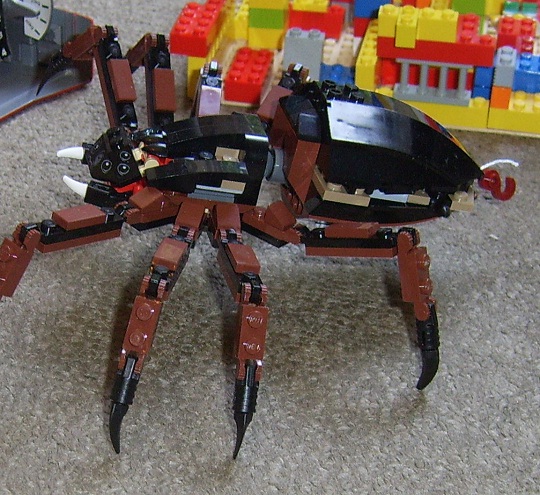 But the real star here is the spider, Shelob. I was really impressed at how well designed she is. However, I was initially dismayed by how many, many, tiny little pieces make up this model. A lot more than usual, as you're dealing here with an organic life form lacking in the sorts of right angles you can get in cars and buildings.
With the help of his dad (and I really do not know who was more excited) it took about half an hour to put together though.
The legs all move, and are clipped into place quite ingeniously so they don't come apart or off too easily. The red 'stinger' at the back of the spider pulls out a length of cord you can wrap around Frodo, and then start pulling him back in.
Yes, bits do come off during play, this is a Lego model not a toy. But it is easy to keep together, and fairly robust enough to take being pushed about on the table or floor.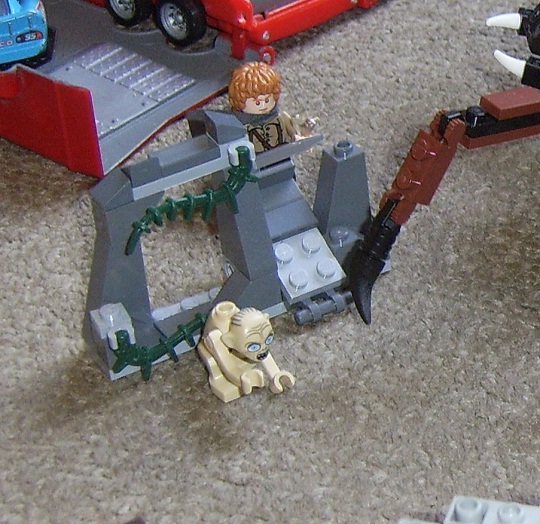 My son now also has his eyes on one of the other sets. The Attack on Weathertop (£49.99). I have a feeling I know what will be under our Christmas tree this year.
Pros: well designed for interesting gameplay, lots of neat little features
Cons: lots and lots of tiny, tiny pieces
Overall verdict: 10/10 OK I'm biased, so lets make that 8/10 because the stuff is always so expensive. But it IS Lego and it IS Lord of the Rings!