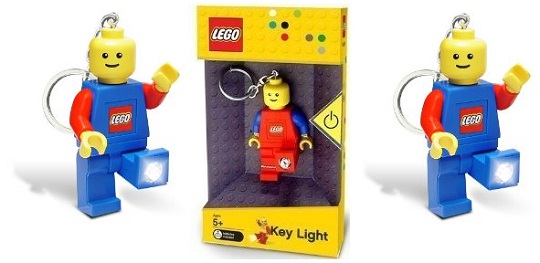 Fancy a bit of Christmas shopping? This is a bit of a fun one, for you or other adults. Kids too if you like but it seems a bit of a waste on them! As far as I can tell from the comments on HUKD, the Lego Lights Mini Torch is a firm favourite for most grownups. Argos is selling them for £1.99 each, plus 99p for delivery that makes £2.98.
I'm getting two - it seems like a fun, but useful, little Christmas present for my son's teacher and the teaching assistant. I've included the price as £2.98 each, as the 99p delivery charge is per item, not for an order. So effectively, that's the price.
This incredibly cute Lego torch keyring will make the perfect gift for any Lego fan, and lets face it. Anyone who has been a kid counts as a Lego fan even if, like me, you didn't actually have any. There's just something so friendly about the stuff.
The brilliant bright light allows you to do an assortment of things, from finding your keys to taking it on camping trips or you can even get under the covers and read your bedtime story with ease. The website describes it as an ideal accessory for children and adults alike.
One comment often made is that the keyring is bigger than expected. The Lego man stands at 7cm tall and his posable legs can be used to angle light on all situations from finding your keys to sneaking around your room after bedtime.
Press and hold the button for a constant source of light whenever and wherever you need it. It does require batteries - 3 x CR2025 whatever they are. Luckily some are included. For ages 5 years and over.
Thanks to Martyboy75 at HUKD!