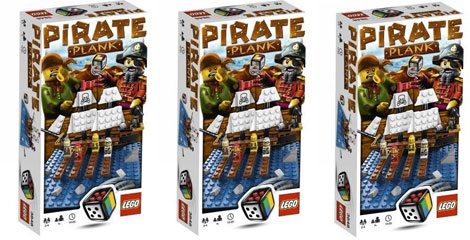 'Ar 'ar me hearties. Get on over to Play.com and buy yourself a Lego Games Pirate Plank game for half price. Play has reduced this from £10.99 to £7.49.
This is a mix of Lego pieces to build and a game. Pieces are added to the dice as you play. The theme is Pirates, which will go down really well with my son as he seems to just adore pirates. I'm not sure though he understands what a pirate is.
One of his favourite movies at the moment is the 'Real Pirate Movie', which the rest of the world knows as Master and Commander. I think he just like the big sailing ships!
You can play it with up to four players, and according to a customer reviewer on the site (who gives it five stars out of five) a game takes about 10 minutes. The website describes it as a fun elimination game. According to the blurb, the story behind the game is this. The pirate captain caught some of his treacherous crew trying to steal his treasure and is making them walk the plank.
Players need to knock the other players off their planks and feed them to the sharks - before they do the same to you. The last pirate standing is the winner.
Thanks to Andywedge at HUKD!