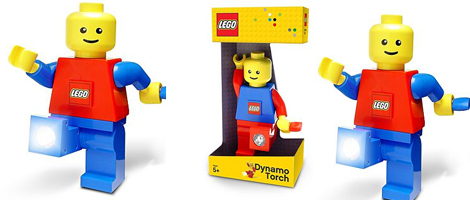 I adore the weird and wonderful things you can get out of LEGO nowadays. The other day I found a deal for LEGO shoes (sadly none in the right size), I saw a LEGO phone somewhere, and now I can own a LEGO torch. I am smitten with this chap. Smitten. And he's only £10.50 at Debenhams.
The LEGO dynamo torch is a part of the LEGO1/2 lights family and comes in a variety of different sizes. He is perfect for indoor use and I just love the fact that you lift his little leg and, voila, there is a torch.
You can also get a LEGO keyring torch for £4.90 at Debenhams if you fancy nabbing a cute little stocking filler or two. These would make ace gifts for kids and adults, I know I wouldn't say no to one of these under my Christmas tree.
They don't say how tall he is so this is going to be a bit pot luck, hopefully it doesn't turn out to be a teensy little thing that cost a lot because of a brand name. If you nab one, do let us know!
Thanks to elsie at HUKD!