LED Colour Changing Dinosaur/Giraffe Lamp £4 @ B&Q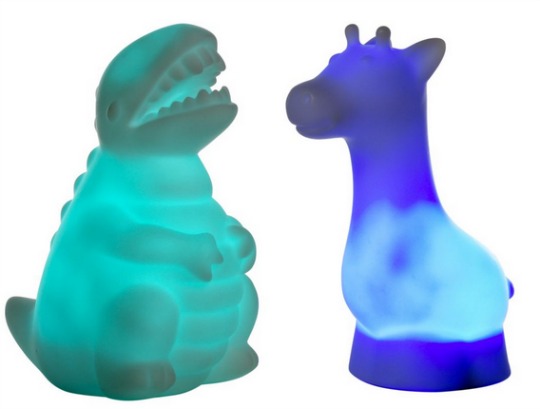 Just to show you readers that I do pay attention, here are two children's nightlight lamps that stay on until you choose to switch off. When I have posted nightlights in the past, a few of you mentioned that you wanted one without an automatic switch off function.
I saw these I thought they were unisex and very cute. B&Q are selling these for only £4. They were £6.98, so not a bad saving.
There is a choice of two, the giraffe or the dinosaur. These are approximately 20cm in height, which is perfect for a bedside table in a child's room. They have a plug fitting so they will stay on for as long as you require.
With a soft glow LED, these change through a variety of colour creating an ambient effect to your child's bedroom at night. The reviews are good too. Both lamps received above four star ratings each.
If your child, is one with special needs, then these can be used for sensory rooms. I visit a sensory room with my baby in my nearest city and he loves it. It has such a calming effect on him.
Both are available for reserve and collect  from your local B&Q store, which is free or pay a whopping £5 delivery to have it to your door.
I would like to point out that the giraffe is collection only as the stock levels aren't as high as the dinosaur. I made sure there was still plenty throughout the country though, so don't worry.