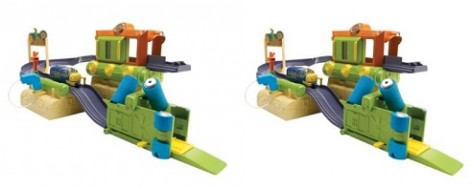 If you've a kid who is at all interested in Chuggington, or it looks like they might be about to get into it, then snap this one up now. It is a fab deal as this stuff is so expensive. Well made though, but still expensive. The Learning Curve Diecast Chuggington Repair Shed Playset with Brewster is reduced on Amazon to £7.98, down from £26.99.
Now it is a bit risky to put these deals up as Amazon does amazing price drops then increases the price in really short periods. However this one has only been around for a couple of hours, so if you can get to it before 4pm you should have a good chance of snapping up an excellent bargain.
This is described as an "open ended play system featuring the key destinations from the popular TV series Chuggington". It has lights and sounds, and comes with a diecast engine that I'm guessing is Brewster going by the title of the set!
The engine has an 'Easy Coupling System' to connect and play to ensure engines never detach from each other. You will need to buy the tracks to add to the larger layout of this separately.
Thanks to millarcat at HUKD!