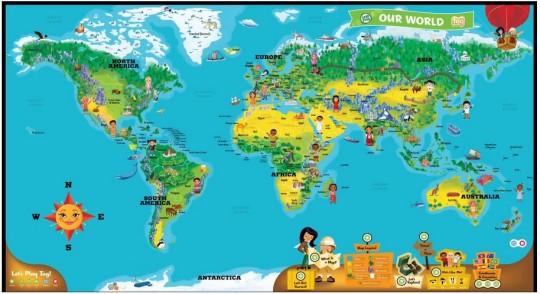 Normally when Amazon has something on a super-duper discount, the reviews for it aren't great, and you can see why they are practically giving it away. That's not the case with this one though as the LeapFrog LeapReader World Map has really good reviews, and is on sale for £7. It needs the £3.30 postage added on, making it £10.30 so it could be worth finding something else to go with it for the gift drawer. I have my eyes on the LeapFrog Tag Book: Go Diego Go! Underwater Mystery (Works with LeapReader)*
The LeapFrog World Map takes children on an interactive journey around the world on a two-sided map. Children will meet  other child characters and learn how to say "hello" in their languages.
There are more than 10 - why not give us an actual number? - family-friendly games that bring map facts to life and help children develop and strengthen critical reading skills.
With the help of the Map, they will explore topics like science, geography, and writing.
Like other LeapFrog products, children can earn online rewards and parents can connect the device to the online LeapFrog Learning Path to see what their child is playing and learning.
And in case you weren't sure - this does not include the reader.