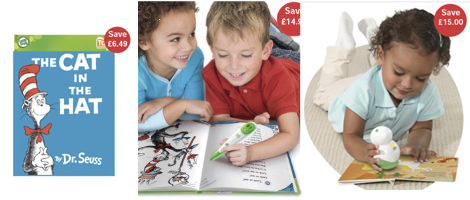 I'm not usually a fan of electronic books, but I'm softening towards the Leapfrog Tag reading systems and the Early Learning Centre are currently selling them at half price.
I've always loved books so I find it quite difficult to understand why anyone wouldn't!
All of my kids have a huge fondness for books (yes, both of the boys too) and all without the help of things like the Leapfrog Tag Reading System books.
I was shocked by the reading and literacy statistics among boys which were highlighted in the recent series on TV 'Gareth Malone's Extraordinary School for Boys' (I adore Gareth Malone and the way he gets the best out of people), HOW are boys being allowed to get so far behind?!
So, anything that sets up a happy childhood relationship with books and reading can only be a good thing, whether they are interactive electronic books like the Leapfrog Tag Reading System ones, or your more traditional books that don't require batteries.
There are two different Leapfrog Tag Readers available - ones aimed at little kids(aged over two) and those for slightly older kids (aged over four); the Tag Readers can store up to five books and are usually £30 but currently £15 with the half price deal.
The actual books themselves vary but by way of example, The Cat in the Hat was £12.99 but is now £6.50.
Standard delivery is £4.50.
Thanks to Kayleigh1986 over at HUKD!