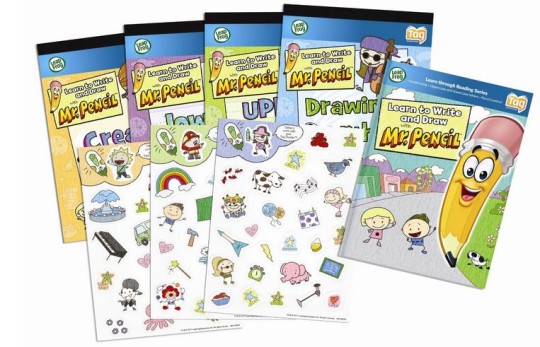 Amazon have reduced LeapFrogs Tag Book Set: Learn to Write and Draw with Mr. Pencil to £6.57 from £24.99 - it's currently £25 at Tesco, so that's definitely a real price drop. However there's a charity seller who has it for you for £5.11 delivered. Just check the 'other sellers' and look for charitybookscouk.
I think this is a great price! Goodness me. For a story book and 'enabled stickers' and then you get four 'workbooks' which you use with a regular pencil. It's lovely to have it be part of a themed set though.
You use your Tag Reader to bring writing skills to life, while play learning activities that help build the basics of learning to write. The fun workbooks, activities, and sticker sheets help build writing skills through tracing letters and drawing shapes.
"The technique used in this book supports the curricular approach used in many classrooms around the country. Your child will learn to write in stages, with step-by-step guidance in: letter strokes (learn how horizontal, vertical, angled, and curved strokes form letters), stroke order (learn how to combine strokes in the correct order to form letters), diagonal lines, circles, and retracing (learn how to retrace lines to form letters like M and B)."