Leapfrog Scribble and Write £9.99 @ Argos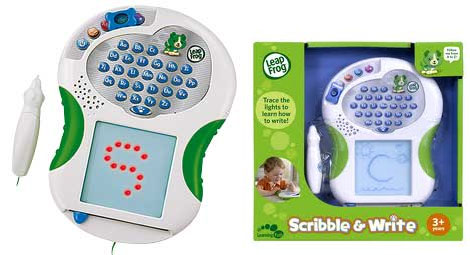 This Leapfrog Scribble and Write is currently half price at Argos, having been reduced from £19.99 down to just £9.99 it's a lovely Christmas bargain!
Currently in stock for home delivery and store collection, this Leapfrog Scribble and Write has rave reviews and is a Toy Talk Awards Educational Toys winner!
Your little one will be helped along in their reading, writing and pattern recognition skills by tracing the lights that appear on the screen.
They'll start by following simple shapes and patterns and when they've mastered those, will move on to upper AND lowercase letters.
There are fun games for your child to play and the Leapfrog Scribble and Write will also help them develop their fine motor skills through pencil control.
Here's what some parents who've already bought a Leapfrog Scribble and Write have to say about it...
"This is a must buy for anyone that has small children,the screen size is perfect,the voice is understandable and clear,it does lower case and capital letters.. Everything your little one needs to start scribbling away!!"
"
I bought this for my 4 year old son who has just started school and is learning to write. It has helped him to gain more pencil control and not only does it teach letter writing but has shapes to draw as well. Good english voice and easy to use. 10/10 for me!
"
Reading the small print on the Argos website seems to suggest that they are only going to sell the Leapfrog Scribble and Write for £9.99 until 30 November...so you've got until a week Saturday to grab one.
Thanks to Jagron over at HUKD