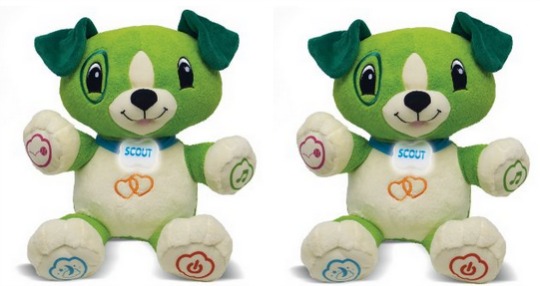 This has got to be the best price that I have seen this for this. The LeapFrog My Puppy Pal Scout and Violet are only £8.99 from Amazon. Just to make you see how good a price this is, looky here, it's £20 @ Boots.com, £17.99 @ Toys R Us and £17.99 @ Argos. Amazon are selling it for this special price for a limited time only. As I post this you will have approximately 14 hours left to purchase either of them.
LeapFrog My Puppy Pal Scout or Violet are most certainly one of the most popular baby toys on the market. All of my older children have had one of these when tiny. At this price, I plan on buying one for my baby's first Christmas. It's suitable for babies aged 6 months plus, so worth thinking about as a gift, for THE festive event.
The great thing about this lovely, interactive toy isn't it's friendly smiling face, or it's softness, but it's ability to include your child's name into songs. What a super feature!  It is a very good way to get baby to not only recognise their own name, but to tune in to the content of the lullabies.
To load your child's name. simply connect Scout to your computer and follow the instructions. It's not difficult to do, as I was able to do it all by myself.
You will get access to the special LeapFrog site, where you can expand on the five pre-loaded songs that Scout has. There's a list of thirty online that can be downloaded.
To get FREE delivery on your LeapFrog My Puppy Pal Scout, then simply add on something else sold by Amazon, that costs at least £1.01. Just like this Moulin Roty Initial ornament* (available in different letters) for just £1.19
Thanks to mtc1 @HUKD