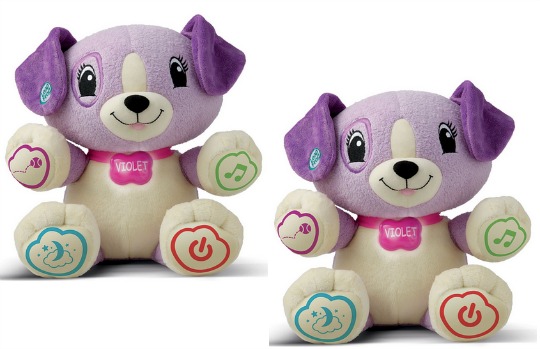 The LeapFrog My Pal Toys are VERY popular indeed with little tots. All three of my boys have had Scout and absolutely loved it. Scout has a friend or a sister called Violet who is just as cool as him. You can get her for just £8.67 from Amazon just now, which is a great price considering she sells for £14.99 at Smyths and £20 at House of Fraser.
The LeapFrog My Pal Violet might look like a cutesy cuddly toy but she is so much more than that. Each of her paws can be pressed for a function, one of those is On and Off but the other three are much more interesting.
The reason we bought Scout for our boys is, just like Violet they can be programmed to say our child's names and favourite things, which I think is a lovely touch.
Violet can teach words, counting and feelings with the fourteen activities she does with the children. This purple, soft bear is a very educational toy that kids will never tire of.
At Amazon, you must spend £10 to get FREE delivery. So, to get it with Violet you must spend another £1.33, on something like this Bestway Swim Ring*.