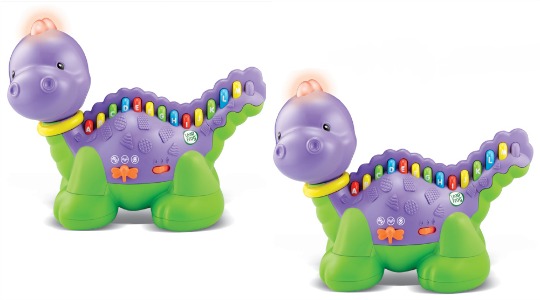 Got a birthday coming up? Think of your little tot nephews and nieces. Hop on over to Asda George or Amazon for this LeapFrog Lettersaurus. It's on offer at only £7 just now at Asda George and Amazon have price matched. This interactive toy would be ideal for a first birthday or perhaps even tuck it away for Easter ( I know, I went there, sorry!) if you don't want to gift chocolate to a little nipper.
So what does this LeapFrog Lettersaurus do?
He teaches your child the alphabet with use of song.  The Lettersaurus features twenty six buttons that sound out letters of the alphabet. You can programme the toy to know your child's first name which I think is a really good feature and might just grab their attention.
Press the head of Lettersaurus and you will get the pleasure of the Alphabet Song, which just has to be one of the first songs that a child learns. I know it was for me.
You can save on postage by opting for the FREE Click and Collect service if buying from Asda George. If you do require delivery then it's at a charge of £2.95. You can get FREE postage by topping up your order to £10 when buying from Amazon.