Leapfrog Learn And Groove Musical Table £23.99 @ Amazon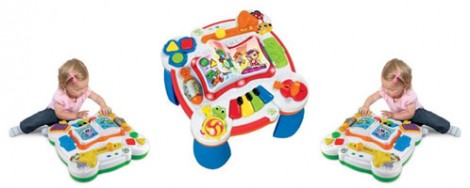 You really won't go wrong with a Leapfrog Learn and Groove Musical Table!
Leapfrog is a name synonomous with trust when it comes to quality toys which are not only fun and entertaining for your little one, but educational too.
With this Leapfrog Learn and Groove musical table your youngster will be able to unleash their inner musical genius.  Think Mozart! Think Beethoven!  Think Tchaikovsky!!
Ok, maybe not, but who cares?  Your mini groover will be having so much fun and there'll be time for classical genius later.
The Leapfrog Learn and Groove musical table is jam packed with all sorts of fun bits and pieces that will keep your child amused for h o u r s
It's brightly coloured and introduces letters, numbers and shapes.  It's also bilingual - so your petit trésor (little treasure) will get a head start with languages too (if only the government were foresighted enough to have languages taught right at the beginning of school life *sigh*).
The legs of the Leapfrog Learn and Groove musical table come off too. I think this is a brilliant idea as it means young ones who can't stand yet can still enjoy playing with it.
Amazon have reduced the price of the Leapfrog Learn and Groove musical table from £34.99 down to £23.99 - they do like to mess around with their prices, so PLEASE if you want this buy it NOW!  If you come back later, you run the risk of it having gone up (it really does make shopping for bargains tricky!)
Thanks to aliciashea over at HUKD!