LeapFrog LeapReader Junior Violet/Scout Book Pal £12.50 @ Amazon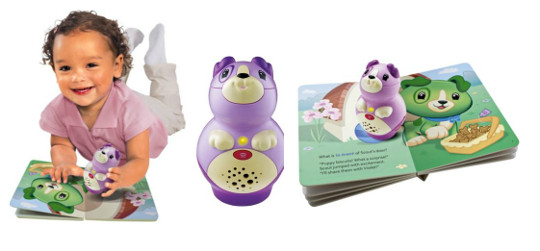 Amazon are selling the Leapfrog LeapReader Junior Violet or Scout book pal for £12. 50. Argos currently have it for £24.99 and Boots have it for £20, so £12.50 delivered is great.
My daughter has had the LeapFrog LeapReader since she was little, and I must say that it is hardy, robust, and beautifully designed for little hands to hold.
If you're not familiar with the Junior LeapReader, it is basically a book reader, giving kids audio to the specially printed pages. All they have to do is touch the LeapReader to a page, and the reader will 'read out' the story, as well as the surroundings, and sometimes with sound effects.
The LeapReader has to have the books stored on it, and can store up to five at a time, allowing children to move between them, and giving you the opportunity to give them 'fresh' books from time to time. The LeapReader comes with a book included, but there are over 15 books to choose from.
Each LeapReader Junior book introduces a different preschool skill—such as the alphabet, counting or social play—through 24 playful activities and more than 150 audio responses. Open-ended questions and fun sound effects encourage children to take charge, as they touch any part of any page to bring words, pictures or activities to life!
Each book also has learning themes, like the included sampler book teaches: time & patience, daily routines, and plant life cycles and is appropriate for children aged 1 to 4 years.