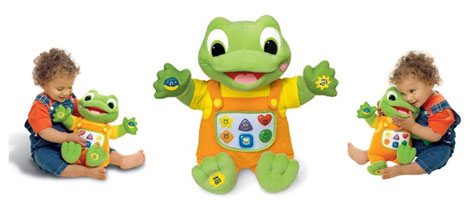 If you're looking for a present that is educational and will be loved too, then you won't go wrong with this Leapfrog Hug and Learn Baby Tad.
If Amazon freeze their prices long enough for you to grab a Leapfrog  Hug and Learn Baby Tad then you'll love him as well; he usually retails for £21.99 but is currently priced at £9.99!
I fell in love with Leapfrog's Tad character when my youngest was given an electonic Tad book for Christmas a couple of years ago.
Everyone fell in love with him in fact, and I don't know of anyone who has Tad in any of his various formats who's not been very impressed.
Here's the official 'what you can expect' from your Leapfrog Hug and Learn Baby Tad:
Play soothing classical music at night or play songs and learning games during the day, inspiring a lifelong love of learning
Perceptual Skills--bright colours and flashing lights stimulate shape and depth awareness
Reasoning Skills--interactive play helps children connect action with reaction, symbols with sounds and words with meaning
Motor Skills--children develop fine motor skills as they physically press buttons to choose a shape, song or kiss
Learning Development--hug & Learn Baby Tad provides a positive and rewarding early-learning experience
Sounds rather awesome and according to the reviews, Hug and Learn Baby Tad IS awesome!
"Some less obvious advantages are Tad's mentorship and social graces. When activated he greets and introduces himself, and on switching off sais "bye-bye". When left alone for a while he asks to be picked up, which has helped me teach my little one to care for her toys. Not only is he polite and lovable, but he speaks to (not at) your child in a friendly toddlers voice. Pronounciation is also excellent!I have not liked any similar toys as much - this one is simple and clear to a toddler, elegant and sophisticated, and develops the user in more ways than you would believe!

I can only encourage in the words of the little green frog...go on "Pick up Baby Tad!"
There are lots and lots of other reviews that all say similar things and I'd grab a Leapfrog Hug and Learn Baby Tad sooner rather than later, if you're thinking about it, before Amazon put his price up!
Thanks to lucerysmum over at HUKD