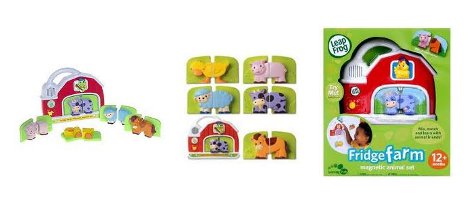 The Leapfrog Fridge Farm Magnetic Animal Set really took me by surprise. At first I didn't think it was going to be a toy that was going to stick around for very long, but once my daughter got her hands on it, I realised how wrong I was.
Firstly, I love the fact that it's magnetic. I have stuck it on the bottom half of the fridge/freezer now, with all the animal inserts and it's a fantastic distraction when I'm working in the kitchen.  The Magnetic 'barn' doors have two slots for the 5 animals – a cow, horse, duck , sheep and pig – that are split in two.
The child can match the animal parts, or mix them up. Each time the child presses the animal a song plays, so, for example if there's a cow head and duck body, it'll be a song about the cow-duck or duck-cow if it's visa versa. There are 25 combinations, but although the names change, the tune stays the same.  I also like that the animal sounds are quite realistic, so it's pretty educational in that sense – so long as you look past the mix and match animals!
There's also a chicken in the 'loft' of the 'barn' and he sings songs too.  It sounds terribly simple, and it really is, but it's very entertaining too, at least for toddlers.
There are two volume settings, which I always appreciate in toys, and although they are separate, the animal 'disks' aren't particularly small, so shouldn't pose a choking hazard.  One thing that could have been improved is a pouch of something to keep the unused animal parts in, because they should stay on the fridge, but do end up all over the house!
This is a fab little set, and it provides multiple short bursts of entertainment that add up to hours.
These are currently on offer at Leapfrog for £7.49, which is half price.