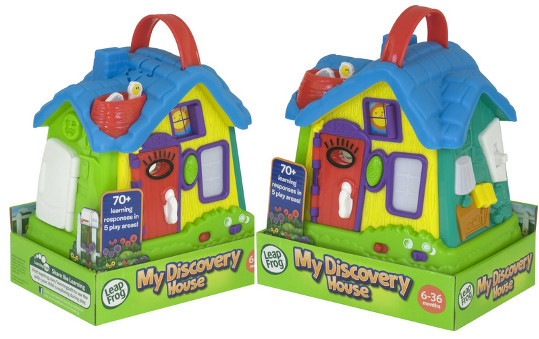 LeapFrog's My Discovery House is currently £7.49 at Amazon, reduced from £14.99, making a great 50% saving, and adding yet another toy to the ready for Christmas pile.
This seems like such a great toy idea for any little person who likes to open, close, flick, switch and press buttons.
This house offers five 'play areas' and 75 learning responses. The five play areas include a front door with a door bell on one side, a fridge with sliding items on another, a bath and bath toys at the back and a book with a lamp on the other side. The chimney has two birds which can be slot in and out.
As children explore the house they can role-play everyday actions related to home. For example, they can learn about opposite words as they open and close the fridge, push the doorbell, slide the window back and forth, push in the birds, flip the light switch and press the duck.
When the sun is in the window children learn about daytime routines and are encouraged to pretend to do things related to morning and lunchtime activities.
When the moon is in the window it's time to learn night time routines and hear bedtime stories.
Appropriate for children ages 6 to 36 months, the LeapFrog My Discovery House is very colourful, sturdy and bright and the reviewers all seem to like it, with none of the reviews being below 3 stars.
Thanks to Ice_Maiden at HUKD