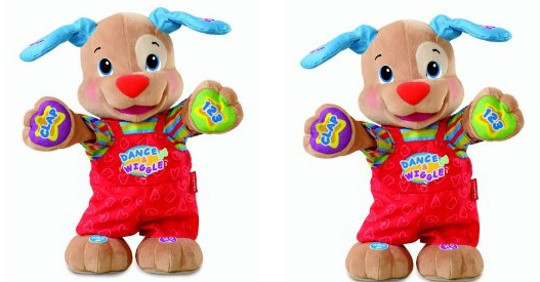 There's a Fisher Price Laugh and Learn Dance and Play Puppy on sale at Amazon for £29.99, which takes £15 off the RRP.
Dance and Play Puppy guides children through their first experiences with motions and games while simultaneously teaching them how to count and how to recognize the alphabet.
There are two modes of play - both which have songs, phrases, movements and games, helping little ones learn without even realising it.
On Puppy's right foot is the "ABC" mode, which is activated by pressing the blue "ABC" disc. On Puppy's left foot is the "Let's Play" mode, and when you press the purple disc on his foot, he'll "come to life with baby-friendly motions, lively songs and that irresistible puppy wiggle."
Dance and Play Puppy  also makes fun, surprising movements. His ears will sometimes move up and down as he sings, adding extra engagement to both modes of play. There are more than 25 interactive songs, phrases and games, such as "Happy and You Know It", "Do Your Ears Hang Low", the "Alphabet Song" and more. He'll also blow kisses and teach parts of the body, manners and greetings.
Thanks to ryiah at HUKD