Two Large Collapsible Storage Boxes (Very Hungry Caterpillar, Keep Calm And Peter Rabbit Designs) £10 @ The Works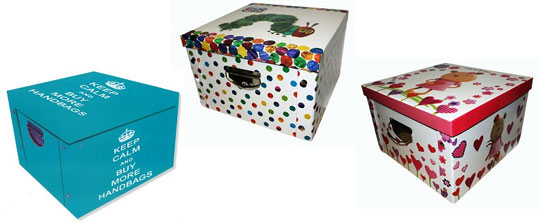 What IS it about storage? There's just never enough of it and, somehow, the more you add the more you need!
If you are in need of some extra storage, but want something a little more interesting and pleasing to look at that boring plastic boxes, then go and take a look at these collapsible storage boxes on offer at The Works - you can pick up two for £10 (they're usually £6.99 each) and I have a free delivery code for you too - WOW, I spoil you sometimes!
I'm completely in love with these large collapsible storage boxes in the Very Hungry Caterpillar design!  You can keep the 'Keep Calm' ones (the overuse of that is driving me mad) and I just prefer the VHC to the fluffy cuteness of Peter Rabbit.
If none of those take your fancy then how about Marzipan Hearts?  No? Spots and Stripes then? Flowers?!
The boxes all measure 23 x 35.5 x 35.5cm and will be perfect for storing things on top of wardrobes, in wardrobes or under beds.  Now, for free delivery of your collapsible storage boxes just add FREE30 to your basket before you checkout (it will only work if you spend £10 or more)
Thanks to goonertillidie at HUKD