Lamaze Play and Grow Sir Prance-a-lot £4.95 @ Binxie RRP £10.99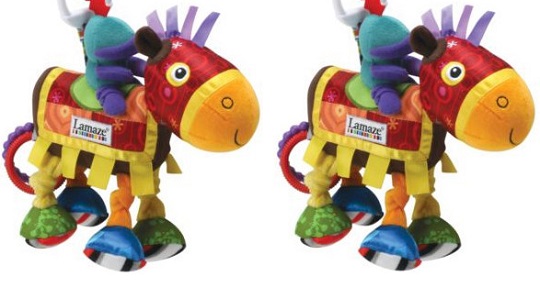 I'm not sure what I love the most about the Lamaze Play and Grow Sir Prance-a-lot - its colourful attire or that lovely, happy look on its face. Either way, this would make a fabulous first toy, and right now Binxie has it on sale for £4.95, and this includes delivery in the UK. The toy has an RRP of £10.99. And frankly, you can't go wrong with Lamaze toys. Babies adore them.
This regal steed (as the website describes it) is full of developmental features that capture baby's imagination and stimulate the senses. Baby will have fun squeaking the knight atop Sir Prance-a-lot's back.
Its clacking rings can simulate the sound of galloping as baby makes the knottie activity legs move. Sir Prance-a-lot also has rewarding jingle and crinkle sounds. Best of all, you can clip this Lamaze Play & Grow Sir Prance-a-lot on to anything, including strollers and baby car seats, to keep baby amused for hours.
And as any mum can tell you, when it comes to babies being able to attach or clip the toy on to something is a real life saver!
Thanks to Tami at HUKD!