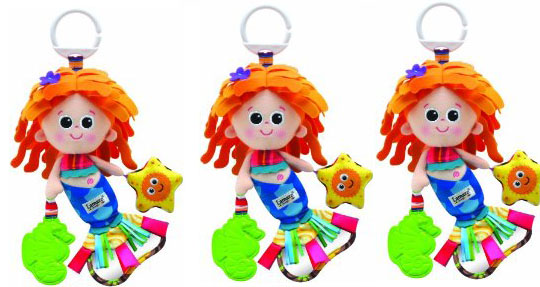 There's nothing quite like a Lamaze toy for little babies. My son had one, and that along with a little wooden toy with bells were all he needed to keep him occupied. Amazon has reduced this Lamaze Play and Grow Marina the Mermaid to £5.99 down from £9.99. And perhaps best of all delivery is completely free with Super Saver Delivery.
Under sea the fun comes alive with Lamaze Marina the Mermaid. What makes a Lamaze toy so popular with babies are all the little features that they just seem to love. Like all these sorts of toy makers the company dresses it up with words like 'developmental' but lets face it, just about everything a baby does is developmental anyway. What is so wrong with using the word 'fun'?
On this toy, you get flowing hair, a smiling rattle star and a sea horse teether. Marina's brightly coloured tail has crinkle fabric and peek-a-boo mirror. And of course there's the standard Lamaze link, so you can add it to the overhead bar on a gym for example.
Nearly all the reviews on the site are five star. Typical of the comments are this one. "I bought Marina for my daughter when she was about three months old and she loves her! At first she spent ages gazing into her eyes and I'm always catching her smiling at her and babbling away! There is lots for baby to do - textured easy to grab hair, teether, rattle crinkly tail and mirror. Marina is usually clipped on to my daughter's swing so that she can play with her sitting up and she strokes her hair when she goes to sleep :) Definitely recommended for your baby's first doll."
Thanks to Civichyde at HUKD!