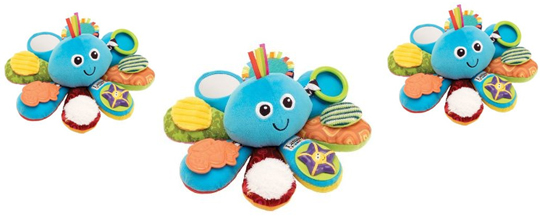 I'm completely in love with this Lamaze Octivity Time toy and at £12.88 rather than £16.99 you can love it for less money, and as it's an Amazon Deal of the Week the price is guaranteed until 11.59pm on Sunday.
I don't just love this Lamaze Octivity Time octopus, I love almost everything Lamaze and with good reason: their toys are all designed to easily engage with babies of various ages, bring out their natural curiosity to discover things and, in the process, help to develop a range of skills and stimulate senses.
There are 10 activities for your little one to explore with their Lamaze Octivity Time - from crinkly textures, to soft and velvety tenticles, rattles, bells and squeaks.  It also features a mirror, teething ring and clicky rings too.
Suitable for little tots aged six months and over, here's what some existing owners have to say about their Lamaze Octivity Tunes...
"This is my first ever review but felt i had to submit since this is one of the best presents we ever got for our baby. Since he was 6 weeks old he loved it and now at 5 months the novelty doesn't seem to be wearing off. it is much brighter then in the photo. you won't be disappointed."
"Lots of colours and activities. My baby is only 3 months so a bit young for this toy yet, but I love it."
"I bought this for my 5 months old girl and she absolutely loves it. I can really recommend this. Great buy"
Well, there's not much I can add to those other than happy Lamaze crinkling and rattling!