Lamaze Elephant £4.99 @ Amazon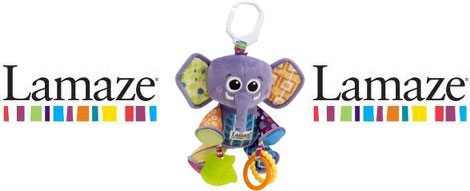 This Lamaze Elephant is just CUTE!
I am such a fan of Lamaze things and ever since the Lamaze octopus my youngest has was renamed 'Lamaisy' that's the only way I can pronounce them (instead of Lamars or Lamaise); regardless of which you choose to call them, you can't fault the quality and educational/entertainment value of their products.
The lovely Lamaze Elephant has all the things you can expect from a Lamaze toy: firstly, he's CUTE! Then he has the necessary elements to stimulate your child's senses and encourage their development.
Lamaze Elephant has bright contrasting colours for visual stimulus, different textures to grip which develop your baby's motor skills along with a squeaky tummy, "clinky" rings and a knotted tail.
Reviews for him are worthy of Oscar nominee with glowing 5 stars reviews all over the place.
"This is absolutely gorgeous. It is made from different textered materials, has a squeaky tummy, rattle rings, a teething disc and crinkly ears and feet. An entertaining toy for a reasonable amount of money. It was also much bigger than I expected it to be."
"Good value for a lovely toy. My daughter loves it. She's 5 months old and loves the crinkly ears the most. She talks to it as well (in baby language obviously)and is very vocal as a result haha. Personally, I was very surprised as it's bigger than what I thought it would be and is very colourful. 10/10 I'll be purchasing the other toys in the collection soon."
This Lamaze Elephant usually retails for £6.99 and has a couple of quid knocked off at the moment, making him £4.99 - even without the small discount I'd still say he was definitely worth the money.
Thanks to kittykat09 over at HUKD