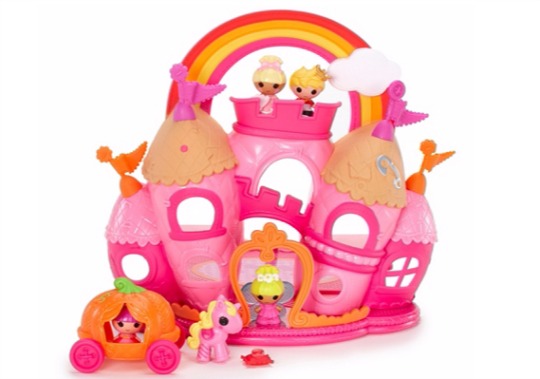 I can't say I know anything about LalaLoopsy apart from what's on the ads on TV, so this will be nice and brief. The LalaLoopsy Tinies Castle and Figures was selling for £19.99 at Argos, and is still around £13 or more in most stores. Argos have just reduced the set again, so that it is now only £5.99.
This set is a play castle that also works as a carrying case for the LalaLoopsy Tinies figures. It comes with a Princess and Cinders Tinies figures that are exclusive to this set, as well as a two more figures and a Tinies Pony and accessories like a Pumpkin Carriage so that you can recreate the Cinderella story.
If you know anyone who collects these toys then this looks like a great little gift, and maybe one to put away in the party present box.
Stock is not available everywhere, and I found it in about half of the stores in the areas I checked, but for this price it's worth a quick look to see if they have any in stock nearby.
Thanks to Hayley on our Facebook page.