Hello Kitty Trunki - Less Than Half Price - £22 @ GB Nappies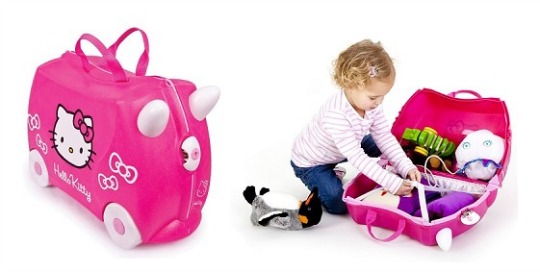 Luschka told you about the Gruffalo Trunki when it was on offer at GB Nappies, and now you have shared back with this deal! The Hello Kitty Trunki kids ride on suitcase is today's offer, and it is just £22, plus a delivery charge of £3.50. Just a couple of pounds more expensive than the Gruffalo one was, but still a great bargain as their usual price is £44.99!
Here's what Luschka told us about Trunki's:
Make travelling more fun and exciting for your children by getting them the Trunki suitcase. The fun Trunki is great for little ones who can pack their own luggage. They can then sit and ride while their parents tow them along.

Suitable for children over the age of three, (my two year old loves hers!) the Trunki Suitcase features a carry handle, horn grips for holding on tight when riding the Trunki and a comfortable saddle. Made from top quality plastics it is durable as well as practical.

Inside the Trunki you will find 18 litres of space, an internal pouch and even a Trunki passport. Your children will love the teddy bear seat belts so their best friend can come along safely too. It's all lockable with a key and secure catches to keep everything safe.
If you want one of these it's a limited time only offer so you need to hurry - you only have until 7pm to order one!
Great big thanks to Katy and Nicola on Facebook for sharing this with everyone! x