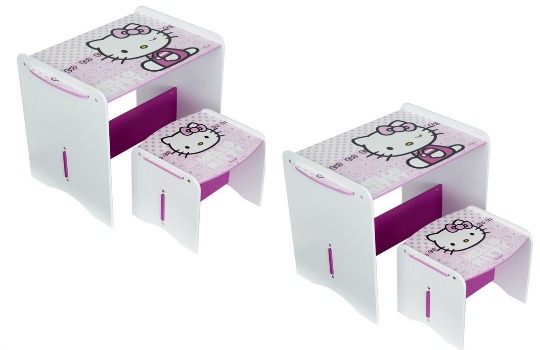 Earlier we covered the issue of toys and clutters and now here's something to solve the kids marking your kitchen table with felt tips or worse still the carpet. This Hello Kitty Table and Stool is ideal for a little person to sit and draw or to even have a snack. It's made by a company called World's Apart and is currently selling for just £17.25 at Amazon with FREE delivery.
The Hello Kitty Table and Stool is made from MDF and requires self-assembly. It's easy though as it just all slots together and is secured by screws. Everything you need for putting it together is included.
I has six raving reviews on Amazon with people stating that the quality is great. I have never seen this so cheap before so the reviews are very reassuring. It's recommended for children aged two years old and above.
Hello Kitty is a popular character aimed at little girls. The table features HK on the top of the table and stool. This would look great in a little ones bedroom but if you were seriously lacking in space and don't have a dining table then perhaps a little one could eat at it.