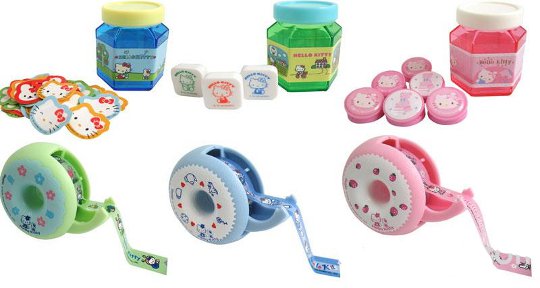 Hello Kitty Stationary from Gacha is on offer at Game for £2.99. There's no indication of what it was before it was £2.99, but I found it elsewhere for £6.95 plus almost £4 postage, while postage from Game to any UK address is free of charge, so it sounds like a great price to me.
I have yet to meet a girl who doesn't like decorating her school books and being creative in her personalisation of her space – (admittedly I don't know too many girls of school age these days, but I used to be one, so I 'm going on that memory here!)
The Hello Kitty Stationary from Gacha features six products for organising, sorting and decorating your paper work. The set contains 6 different mini items, including six organiser clips, 40 stickers, 3 erasers or one of three decorative tapes with dispensers.
The only down side is that these are 'blind packed', which means the goodies are packed randomly in capsules, and you'll get three capsules with one item inside each, but there's no knowing what you'll get in your capsules. Still it's not a bad price and you could probably risk going for two or more if you were really hoping for the whole set.
Thanks to adds03uk at HUKD