Hello Kitty Ready Bed £20 @ Debenhams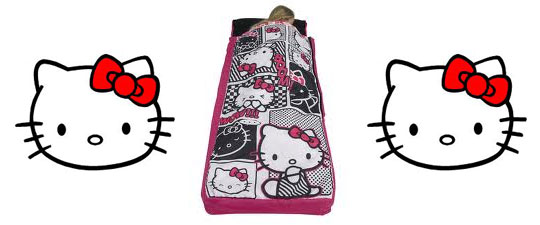 Debenhams have reduced the price of this Hello Kitty ready bed by half, making it £20 instead of £40.
Ready beds are fabulous inventions, there when you need them and not when you don't - oh if only there were more things in life like ready beds *wink*
You don't need anything 'extra' if you have a Hello Kitty ready bed ready and waiting for your little Hello Kitty fan - no blanket, no pillow, no duvet as it's already included.
There's no need for extra pillows, there's no need for extra blankets, duvets or duvet covers because the bed already has them - it didn't take a genius then to come up with the catchy, and original, title of 'ready bed'!
If your young Hello Kitty fan is having a friend over to stay, you simply whip out your Hello Kitty ready bed and blow it up with the pump, that's included, and ta-daaaa,  one ready bed ready.
The Hello Kitty ready bed measures  170 x 67 x 20 cm, the cover is machine washable and there's a quick deflation valve too when you're ready to pack it all away again.
Delivery to your local Debenhams is free as is the standard four-working-day delivery to your home.
Thanks to adslis at HUKD