Hello Kitty Junior Bedding Bundles (Duvet, Pillow & Covers) £9.99 @ Home Bargains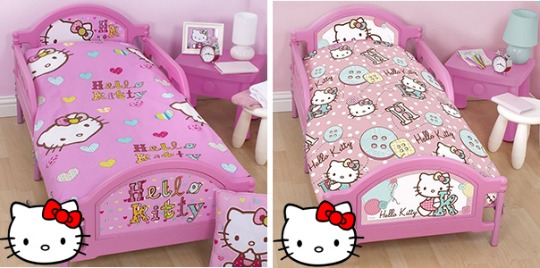 If your kids are going to be in a Toddler Bed any time soon then this is a great bargain on a starter bedding bundle, and it's definitely worth grabbing at this price even if they don't need it just yet. You can get a 3.5 tog duvet, a pillow and a duvet cover set all for £9.99 at Home Bargains. This is about half the price you would expect to find a bedding bundle selling for, and this is what the covers alone would normally cost!
I'm really hoping they get some other designs in, as at the moment online it is only Hello Kitty - but there are two different cover styles to choose from if the little cat is a favourite in your home.
This is brand new to the Home Bargains website, so they should be coming into stores any time now as well, though I didn't see them in my local branch yesterday when I was looking at the bedding so if you want them it might be best to order.
If you order online there will be a delivery charge of around £3.49, although the charges are calculated on an individual basis at checkout and depend on the size of the order and the destination. Even with the delivery charges added on this is still a substantial saving on other stores. I just hope the kids like Hello Kitty!