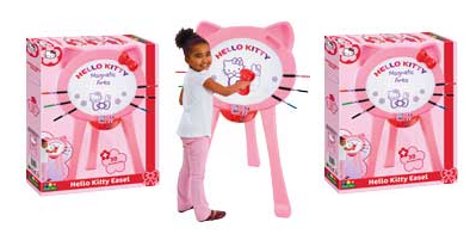 There are so many uses for the Hello Kitty Easel, now £19.99 at Argos, down from £34.99
What are these uses? Well, apart from the obvious play advantage, there's also the writing things option, like to do lists for children, reminders can be written on, or short messages if you'll be missing each other on the way in or out. There's also the ability to learn and disguise it as play. I had a chalkboard later in my childhood, and used to "teach" the neighbourhood children maths at it.
Of course, it's primary purpose is play, and the easel comes with six white board markers, 12 crayons, 12 colouring sheets and a white board eraser.
I think it's great that it is dual medium – whiteboard and paper - as that does lengthen how long it will stay in use for, which is always an added bonus.
You can get this from Argos, and it's available for click and collect today or home delivery in two days
Thanks to shadow1 at HUKD