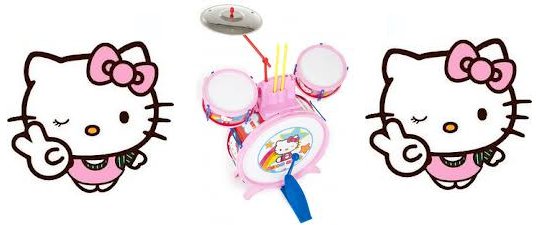 I can only apologise in advance for what I'm about to do...
Home Bargains have reduced the price of this Hello Kitty drum kit down to £19.99 from £39.99 *ducks for cover under the desk*
I'm so sorry, I really am - if bringing this deal to your attention results in this Hello Kitty drum kit being in your house and driving you insane then I can only apologise some more and, perhaps, point you in the direction of a really good perruquier (they make wigs) to help you once you've pulled all your hair out.
But it's just so nice to see a girly themed drum kit!  They're almost always blue and themed with Thomas the Tank Engine or Bob the Builder - well how's that going to help bring on the next generation of great female drummers to join the ranks alongside Meg White from the White Stripes, or Carline Corr from the Corrs?
Perhaps your daughter will be one of the few when she grows up, "So, when did you first get into drumming?" asks the MTV Music Award host.  "Well," replies your daughter, "it all started when my parents bought a Hello Kitty drum kit for me when I was little!"
The Hello Kitty drum kit comes with the following drums and accessories and is suitable for little rock chicks aged three years and older:
Bass drum
2 Bongo drums
Cymbal
Bass drum pedal
Drumsticks
Bench
If you have a Home Bargains near you then you can collect your Hello Kitty drum kit in-store for free, otherwise you'll pay upwards of £2.95 for delivery.
ROCK ON!