Kitchen Science Kit Review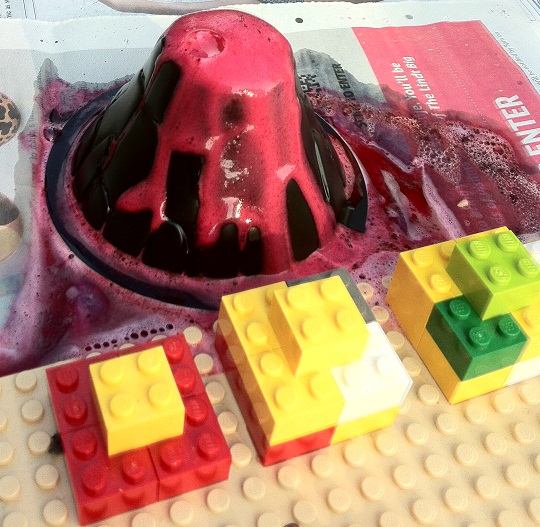 I had a chemistry set when I was 9 years old. In retrospect, a full on chemistry set was perhaps not the wisest choice for someone a bit too young to understand the responsibility. The brown stains on the dining table never did fade. This wee kit from Kidz Labs is a bit different (priced at £11.99 at Amazon). It has 6 specially designed kitchen science experiments you can do. Using items you can find in most kitchen cupboards, and the props contained in the box.
The projects are making invisible ink, taking fingerprints, rock candy factory, vinegar rocket, fruit battery and the most exciting, a table top volcano.
So far we have done two of these, the rocket and the volcano. After a bit of a build up the rocket was a disappointment. The rocket itself is tiny. The instructions are clear, and it is easy to follow, but it is impossible to keep the rocket on the stand long enough to get a really good boost. It kind of went up about two centimetres. Not really that exciting to a small boy.
The volcano was much more exciting. My son built a Pompeii out of Lego to go with it. I would say that the two teaspoons of baking soda in the instructions is too much. There's not a lot of room in the volcano for the ingredients. We used one teaspoon and that was fine. My son spent most of an entire summer's evening (yesterday, about all the summer we're going to get!) cackling away on the patio as he mixed the indgredients and melted lava over his little city. You can see the result in the photo above!