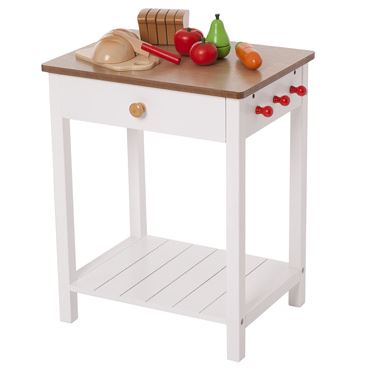 JoJo Maman Bebe have a really cool play kitchen island on sale for £29 instead of £39. Delivery is free, which on a 'large item' is pretty good value too. 
My kids love their play kitchen, and I think it's really good value. It provides hours upon hours of play opportunity, except the space in front of it isn't really large enough for two children, so they now fight about it quite a lot, which drives me to distraction. I love the idea of this kitchen island to sort of 'extend' the play surface area, and add another 'layer' to the kitchen. A great idea, I think!
The island has a co-ordinating drawer to store the chopping board and food, which also comes with it. Although it does come with wooden play food, it doesn't say what or how much, but the picture shows four fruit and veg, two breads, a chopping board and a 'knife'.